See on Scoop.it – birminghamcityforum.co.uk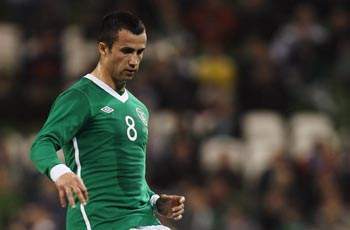 Fahey finally back at the heart of things
Fit after a nightmare year with injury, the Birmingham midfielder is keen to repay his manager's faith in him, writes MARY HANNIGAN
WHEN MARCO Tardelli dropped a not inconsiderable hint on Tuesday evening that Keith Fahey might be given his place in a three-man midfield against Germany tomorrow, possibly with the task of keeping a watchful eye on Mesut Ozil, it will have come as a welcome boost to the player after what has been a hugely frustrating year.
The low point came back in May when he was ruled out of Euro 2012 due to a persistent groin problem, the Dubliner also missing the last five games of Birmingham City's English League Championship campaign, as well as both legs of their promotion play-off semi-finals against Blackpool.
His return to action this season was delayed until mid-September, manager Lee Clark not wanting him to risk a recurrence of the injury. He's back now, though, and is hoping to put his misfortunes behind him.
"I was struggling with groin injuries after Christmas last year, so I needed time. I tried to get fit for the Euros, tried to give it a chance. Unfortunately it didn't work out. To be honest, I didn't think I was going to make it, but I spoke to our club doctor and he said, 'well, you won't know until you try'."
It was before the May friendly against Bosnia-Herzegovina that Fahey damaged the groin again, and there ended his Euro 2012 hopes. "I gave it a go but, really, I needed a lot longer rehab than I had before the Bosnia game. I tried it and I actually felt good on the first day back training until I over-stretched for a ball and I tore the groin again.
"But it's all behind me now and I've worked hard to get fit again. I didn't do any running for about six weeks to two months, since I got back in pre-season it was a steady build-up and the rehab has gone great."
It's been far from plain sailing, though, for Birmingham in the new campaign, the club sitting just a place above the relegation zone having started out as one of the promotion favourites.
The only consolation for the 29-year-old so far is he's back playing in his preferred position.
"Centre of midfield, in a two or a three – my left wing role is behind me, thank God. That's my best position and towards the end of the season I was getting better and better there before my injury. I can fill in on the left, but I want to be playing in the centre."
And after watching the Republic of Ireland's struggles against similar quality opposition at Euro 2012, the team at times hopelessly overrun in midfield, Fahey respectfully suggests that adding another midfielder to the mix might come in handy tomorrow night.
"I think playing a three against the Germans would help the team, there'd be less work to do in the centre of the park than if we had just two in there. We played two against Spain in the Euros and I think the lads had an awful shift. Playing against the quality of the Germans is going to be a tough game anyway, tough to get the ball back off them – and when you do you want to keep it. But you have to have opportunities to get forward as well and whatever way the manager works that in to the team, he's got to have it. But whatever system he goes with, I think the lads are willing to do a job."
He's won 15 caps to date under Giovanni Trapattoni since making his debut against Paraguay in May 2010, scoring the winner away to Armenia later that year in his first competitive game.
While he's yet to establish himself as a regular starter, he feels he has the trust of the manager and, with retirements and injuries, there should, he hopes, be more opportunities ahead.
"He's shown faith in calling me into the squad straight away after I came back, and he's kept tabs on me through my rehab. Since I've been involved he's not left me out. I don't really speak to him outside the squad meetings, he's not spoken to me one-on-one, but it's great that he has shown faith in me.
"I think in this squad there will be more opportunities to play. Obviously Damien's not here, so there should be more chances from here on in. I've made no secret I want to play. I'm not here to just go along with it – I want to play. And if the manager picks me, I'm more than willing." #bcfc
See on www.irishtimes.com